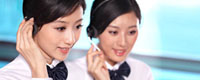 Name: Eileen
Tel: 86-951-4128 490
Fax: 86-951-4128 490
Mobile: 86-951-180 0958 6486
E-mail: nxtango_eileen@163.com
Add: SOUTH VILLAGE XINGQING DISTRICT YINCHUAN,NINGXIA,CHINA
Skype: lin.eileen37
MSN: Wechat/Whatsapp:15909580580
QQ: 331402034
ICQ:






Carbon Additive also named carbon raiser,Gas Calcined Anthracite Coal(GCA), Calcined Anthracite Coal(CAC), is an essential supplemental coal additive to reducing and recarburizing in casting iron. Carbon raiser is chiefly made of coal carburant, using quality Ningxia Taixi anthracite as the raw material. It has the following advantage features, such as high fixed carbon content, high oxidation resistance, low ash content, low phosphorus content, good mechanical strength, high chemical activity, high clean coal recovery… It mainly be used in casting to incease the recarburization, and it heats quickly with good effect and steady carbon yield. Carbon raiser could be used to adjust the carbon content and oxygen content of the molten steel, change it's steel and strength, thus to enhance the nucleating ability of the molten steel and the inherent quality of the billet.


Grade

Chemical Composition(%)

F.C.

Ash

V.M.

S

Moisture

%(min)

%(max)

1

95

4.5

1.2

0.25

0.3

2

94

5.0

1.2

0.25

0.3

3

93

6.0

1.2

0.30

0.5

4

92

7.0

1.2

0.30

0.5

5

90

8.5

1.5

0.35

0.5

Size

0.5-3mm, 1-4mm,0.5-4mm,1-3mm, 1-5mm,3-5mm,90%min,or at customer's option;

Packing

In 1000kgs big bag; or 1200kgs big bag; or 25kgs small bag, then into 1000kgs big bag; or 25kgs or 50kgs small bag, then put into containers directly;or at customer's option;
Total: 4
Page: 1 / 1
First
←Previous
Next→
End